Jungle Services – Giuliano Caranci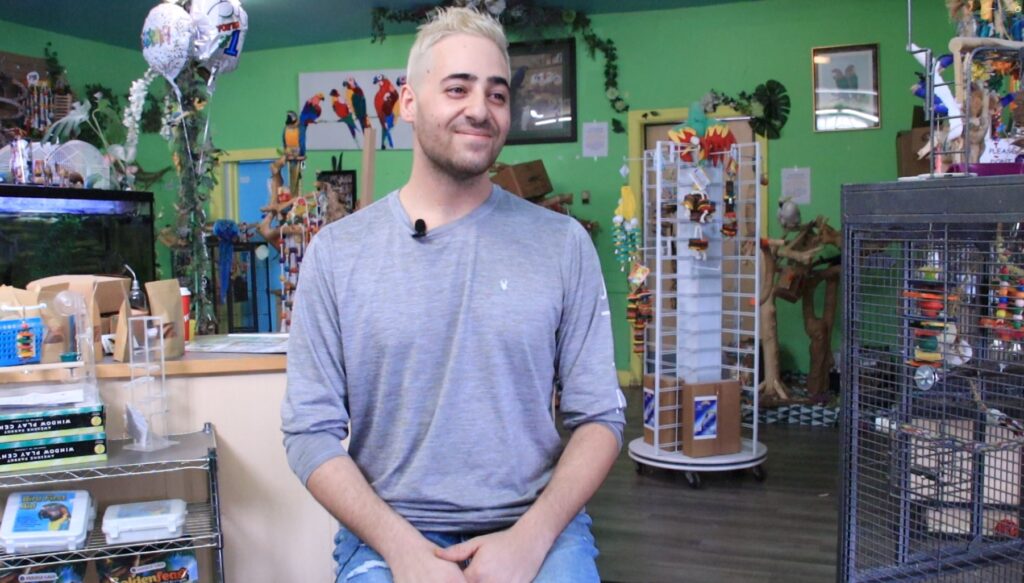 Even as a young boy, Giuliano Caranci was fascinated by animals and knew that when he grew up he wanted to own a pet shop. When he was 10 years old he adopted a budgie, then a second one, and soon birds became his passion.
His childhood dream became a reality when he opened Jungle Services, initially online in 2012 and then as a bricks-and-mortar store in 2018. It is London's only pet shop that specializes in parrots and exotic birds.
From small budgies to large macaws and parrots, Giuliano helps people find the best bird for their family.  He also sells food and supplies, provides grooming services, and offers education and resources to help customers keep their feathered friends healthy and happy. Jungle Services carries an extensive selection of pellets, as well as dehydrated fruits and vegetables and baked treats that Giuliano makes himself. His prices are comparable to larger chain pet stores, but the variety is much larger.
Giuliano breeds most of the birds that he sells, hand feeding them and caring for them until they are old enough to move to a new home. He also runs a bird rescue service to rehabilitate and re-home birds when their owners' circumstances change and they are no longer able to care for them.
"Birds can be a great family pet, and parrots can be a great companion for someone living alone, but they need to be properly cared for," he says. That includes providing a high-quality diet, social time since they thrive as part of a 'flock', toys and activities that provide mental stimulation, and regular wing and nail maintenance.
"Education is a huge part of what I do, and a lot of my time is spent doing research and answering questions," Giuliano says. It's important, but it can be extremely time consuming. "One day the Ambassador from My Main Street walked in, and when she saw what we're doing here she started talking to me about and how the program could support my business." The My Main Street Local Business Accelerator Program was delivered in London by the Small Business Centre in partnership with other local organizations, supported by the Economic Developers Council of Ontario (EDCO) and the City of London.
Giuliano was thrilled to receive funding to purchase high quality camera and video equipment. He records information about different topics that bird owners will find helpful, and regularly posts it online. He still provides specialized information to some customers, mainly through fee-for-service individualized consultations.
Giuliano also records activities and events that build community among local bird lovers, from following the progress of newly hatched babies to a 'gender reveal' party for Oscar, a 26-year-old cockatoo (many species of birds have no outer indication of their gender at birth, and for Oscar a DNA blood test was required) and a birthday party for one of the well-loved rescue birds.
"Jungle Services isn't just a store, it's my full-time life," says Giuliano. "Some of these birds will live 30 or more years. It's important to ensure that people know what to expect, to find a bird that is a good fit for them, and to have the knowledge and resources to support them after they take their bird home."
Learn more about Jungle Service.
Jagoda Hall – Salon Cyan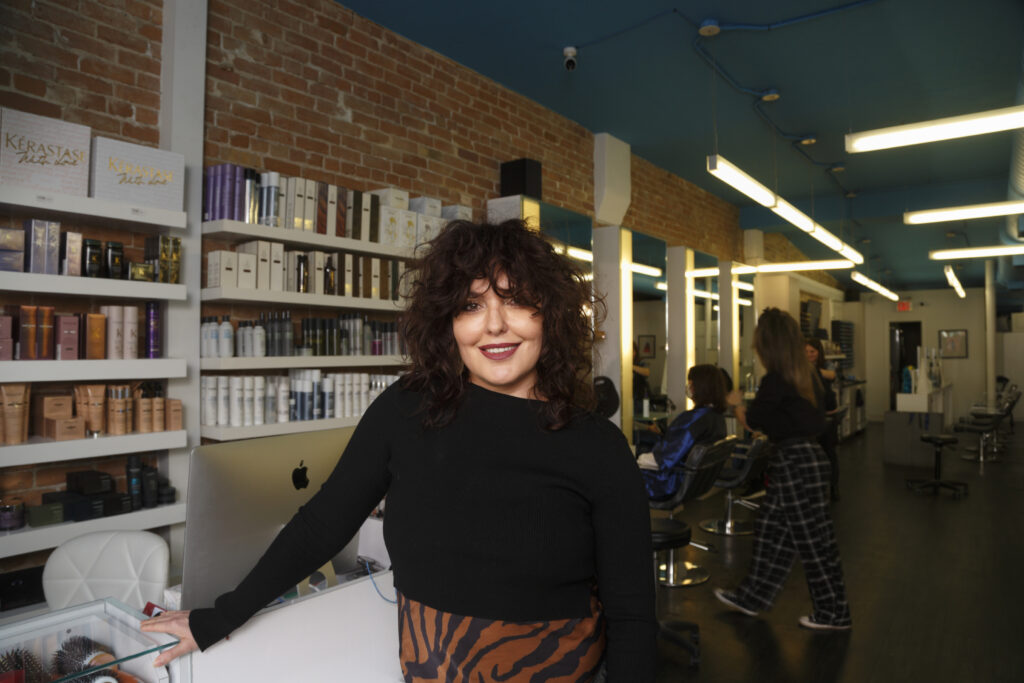 If you have to wear a wig, you want it to look natural. It makes sense to have it cut, shaped and styled to suit you, says Jagoda Hall, the owner of Salon Cyan. The upscale downtown salon quietly introduced wig sales and services a few years ago for clients who lost hair during cancer treatments. Some had brought wigs that they had purchased elsewhere and asked the Salon Cyan stylists to cut and style them. Some were looking for instruction on how to shampoo and care for their wigs, or asked if Hall could do that for them.
As more and more people needing wigs found their way to the salon through word-of-mouth and referrals from health care practitioners, Hall and her salon manager, Kasia Fevens, recognized that the need was more than simply covering their bare heads.
"When people suffer from alopecia or lose their hair during cancer treatments, it affects them emotionally as well as physically," Fevens says. "Having a team that can custom fit and style a wig, in their own natural hair colour, and to suit their face —what a gift that is! People feel so much more confident and more comfortable about their appearance."
With training Fevens became a wig specialist, and a wig/consultation room was set up on the salon's second floor. In the bright and cozy space clients have access to a full display of wig choices, both real and synthetic. And they have privacy when they bare their heads — and often their emotions. Part of the cost of the display wigs and shelving came from My Main Street Local Business Accelerator Program, delivered in London by the Small Business Centre in partnership with other local organizations, supported by the Economic Developers Council of Ontario (EDCO) and the City of London.
Having her own upscale salon was a far-off goal when Hall arrived in Canada from Poland in 1996. First, she had to learn English, then get formal training to be a stylist, and then get experience working in other shops before she could hang out her own shingle. "I knew I wanted to have my own salon, and I knew I wanted to be downtown," she says.
When the building at 115 Dundas Street, just east of Talbot, came up for sale Hall fell in love with the yellow brick interior walls and the feel of the space. "This building is older than Canada," she says. "I knew it would be a challenge to be here, but I also could see the potential, and I wanted to be part of the change in this part of the downtown."
Salon Cyan opened with Hall, her assistant and a receptionist working on the main floor. Now the salon fills both the first and second levels of the building, there are 11 stylists and several assistants, and almost all of the women who work here have been trained by Hall.
Over the past 25 years Hall has won national awards for colour, cutting and makeovers, and coached and mentored several Salon Cyan stylists who have entered and won national and international competitions. The award-winning styles are captured in posters that hang on the salon walls.
People may wonder why Hall named her salon Cyan. "In Polish, Jagoda means blueberry, and cyan is a beautiful shade of blue. My husband wanted to name our daughter Cyan, but I preferred a Polish name," she explains.  "The salon is like a second baby, so there was no question what the name would be!"   
Learn more about Salon Cyan.