Robin Pero - Grow & Bloom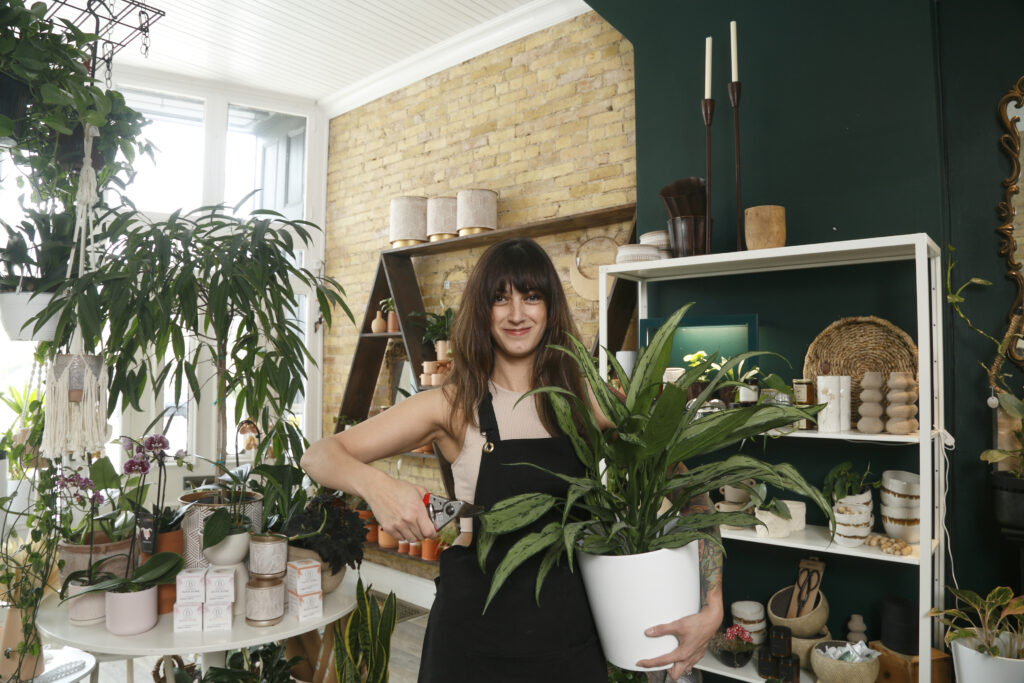 Robin Pero is a botanical creative with a penchant for plants and flowers. Despite the many challenges she has encountered since opening in 2017, Robin has been able to Grow & Bloom her business by focusing on three things: plants and horticulture; full-service floristry; and flower preservation. 
"I'm a third-generation green thumb," says Robin. "My Mother was very interested in gardening when I was growing up, which sparked my initial interest, and I found out later that my grandfather was a rose gardener in his spare time." Eventually, it became clear to Robin that Horticulture was her calling, so she went off to college and spent a decade working in the industry.  
During those years, Robin also dabbled in terrariums and botanical jewelry that she sold at pop-up locations. Her boyfriend (now husband) Zach owned a tattoo parlour on Richmond Row, and when the storefront next door became available, Robin felt she was ready to jump into entrepreneurship full-time. She opened Grow & Bloom in 2017. 
"When I was younger, I loved Richmond Row, and I remember thinking how cool it would be to work down here," she says. The charming yellow-brick walled space was the perfect setting for her plant shop, and being a professional horticulturist who offered knowledgeable advice and guidance with every plant brought a steady stream of word-of-mouth and repeat customers to her store. 
Business was booming during the pandemic, says Robin. "People wanted plants for their workspace at home, and they were sending plants as gifts." But post-pandemic, she didn't see a significant return of feet to the street, at least not in her area. That led her to explore other potential revenue streams such as larger scale events and creative installations, as well as expanding Grow & Bloom's floral preservation offerings.  
Robin uses epoxy and shadow boxes to encapsulate wedding bouquets and other special occasion florals. She was able to expand her range of offerings and increase production efficiency for flower preservation after receiving support from the London Small Business Centre. That enabled her to purchase more molds in various shapes and sizes and experiment with different resins that cure more quickly and decrease turn-around time.  
In the fall of 2021, Robin opened a Grow & Bloom location on Dundas Street across from Western Fair Famer's Market (now the only store she is operating after closing the one at Richmond St.), with a focus on garden-inspired, eco-conscious flower arrangements, plus a variety of plant-related giftware.  
 Learn more about Grow & Bloom
Saisha Patisserie - Jerrah Revilles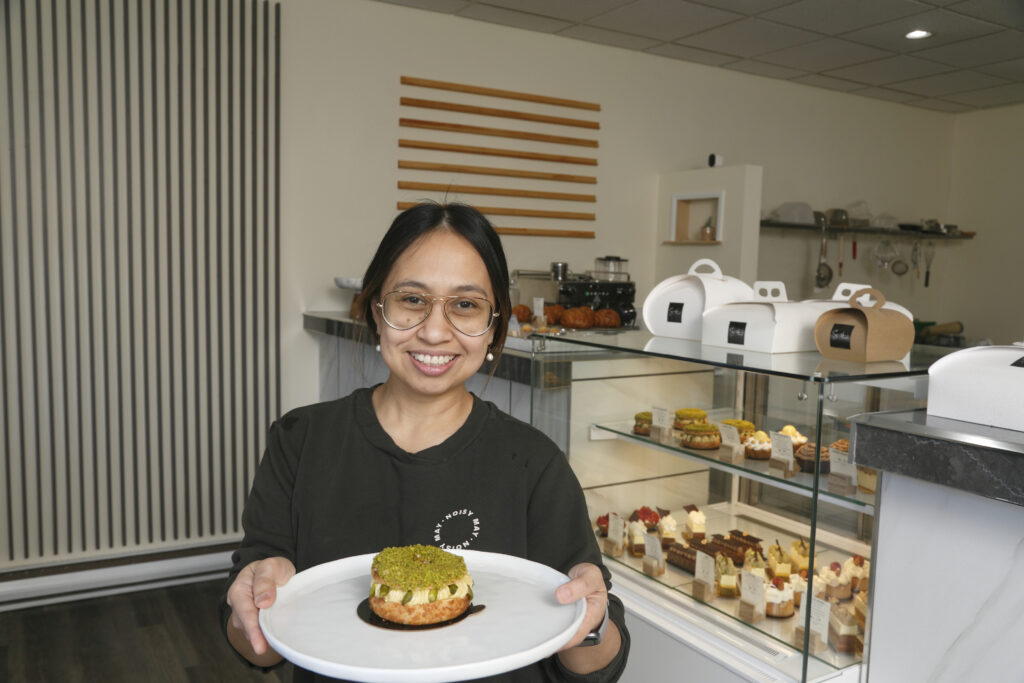 Fans of fine dining will be familiar with Reverie restaurant, which offers an intimate prix fixe tasting experience that garners rave reviews, with an invariable shout-out to its desserts. Chef Brian Sua-An first fell in love with pastry, says his spouse Jerrah Revilles, and for years, the couple had talked about opening a small pastry shop near the restaurant. That dream became a reality with the opening of Saisha Patisserie in a neighbouring space in July of 2022.       
"Every new year we do planning for the next five years. The patisserie was added to our plan about five years ago, so it was long overdue," says Jerrah. The couple had been looking for space for a while, and when the nearby unit became vacant they knew that it was the perfect spot — perfect size, steps from Reverie, and it needed minimal renovations.   
They did need new equipment, though, and after Jerrah and Brian connected with an advisor from the London Small Business Centre, they received financial assistance through the My Main Street Local Accelerator Program to purchase a new freezer, which Jerrah says has been invaluable to their operation.     
"Our cakes need to be quick-frozen before each layer can be frosted and decorated," she explains. "This freezer has really helped improve our production time." Brian also loves panettone, and the patisserie has a proofer that will enable him to expand his baking repertoire to include panettone and croissants.   
The patisserie is named for the couple's teenage daughter, Saisha. Their second daughter, Damaris Seven, arrived in October, and there are plans to add a seven-layer cake to the menu in her honour.   
Currently, Brian prepares different desserts for each of the food operations. At Saisha, he is the creative talent and Jerrah jokes, she is the official taste tester. She also wants to learn to bake and has set that as a goal for herself before returning to her full-time work as an occupational therapist.       
Saisha Patisserie does a brisk business when it is open on Thursday, Friday and Saturday afternoons. It caters mainly to walk-in customers who enjoy Brian's desserts and are thrilled that they can now pick them up to take home.  There is also a coffee bar where people can sit to enjoy their pastry and a hot drink.    
"Our initial plan was to target restaurant clients, but with challenges in finding staff, that plan has been put on hold," says Jerrah.  That might happen in the future, and they are also exploring the feasibility of offering baking classes to the public. You never know what the next five-year plan might look like!  
Learn more about Saisha Patisserie
Kirstie Leedham - Hello Maker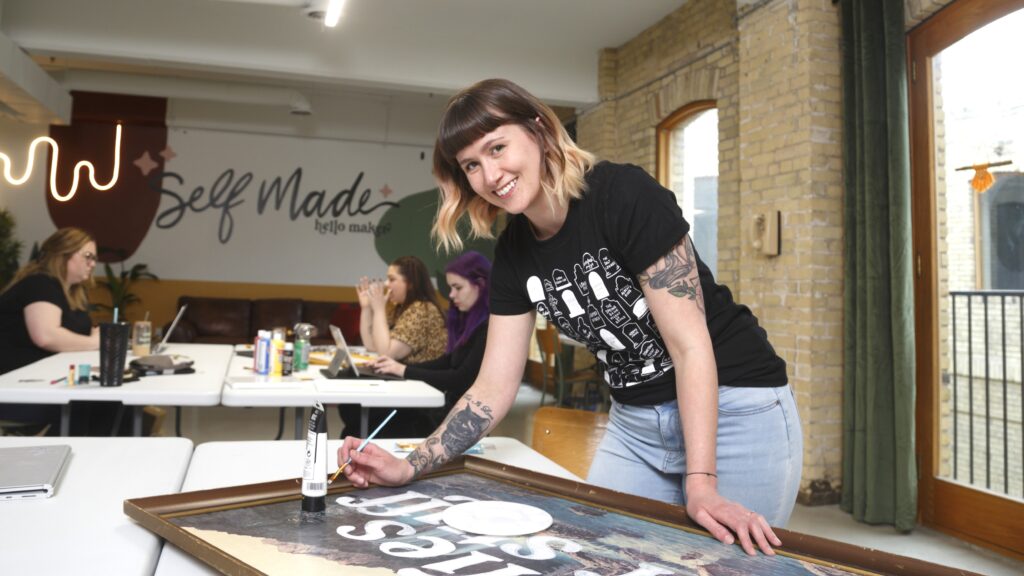 Tell us about yourself. 
I was interested in design, DIY, and crafts for as long as I can remember; I pursued an education and career in Landscape Design, and knew that I dreamed of being an entrepreneur and working for myself. After 5 years as the Creative Director of a brand that produced DIY video tutorials (and one child and one pandemic later) I opted to create a space to share my experience directly with my community! 
Tell us about your business. 
Hello Maker was launched in March of 2023 and run independently by yours truly; in the few short months that we've been operating, we've gotten a ton of attention from the community! Between being featured in London Inc Magazine, and interviewed live on CBC, London is excited about a creative & versatile place to meet friends, make a mess, and create with our hands! 
What services/programs have you utilized at the London Small Business Centre and how have they helped your business? 
I attended the Starter Company Plus program through the London Small Business Centre along with a great group of entrepreneurs! Through a variety of round-table discussions with professionals (like accountants, lawyers, and more) we were able to pick the brains of people we otherwise would have had to pay to consult with! The networking was great – I regularly collaborate with one of the other small businesses that was in the program with me – Andrea from @hardscrabbleblooms runs regular floral design workshops at our studio! Oh, and the grant money didn't hurt!  
What led you to start this business? Was there something that drew (or pushed) you into being an entrepreneur?  
Honestly – I had grown up with undiagnosed ADHD, and as a woman, that's actually really common. But what it meant was that I had a lot of difficulty following rules in a corporate setting, staying on task, and overall made working a regular 9-5 really taxing. I dreamed of a world where I wasn't expected to follow arbitrary rules, be lectured for running 10 minutes late, or watch someone else take credit for the work I'd done. The London Small Business Centre really helped make the dream a reality through one-on-one coaching, mentoring, networking, and financing through grants. Thanks folks!  
 As a busy entrepreneur, what do you like to do when you take a break?  
When you start your own business, I can guarantee you'll spend more time sitting at your computer than you ever thought you would. I have reminders on my phone to tell me to take a break every hour; sometimes it's just standing and doing some stretching, but my go-to is meeting up with a friend for a coffee walk & talk! The experts say that talking with a friend while walking can help you come up with more creative ideas and solutions to problems you might have been stuck on, so you might actually get MORE done if you prioritize taking a break! 
What is the #1 small business book/blog/website you would recommend? 
The Mel Robbins Podcast has been absolutely life-changing! She left her unfulfilling career as a lawyer and started her own business in her early 40's as a speaker, best-selling author, and podcaster after overcoming significant financial trouble. She also has ADHD, and along with the experts she interviews, she has become a sought-after expert on change and motivation.  
What's the best business advice you've ever received and why? 
To prioritize my health! "If you don't take a break, your body will take a break for you." It would be easy to pour everything you have into your business, work 80+ hour work weeks, skips meals, breaks, etc… but you will 100% get burnt out and hit a brick wall, and your business (and mental/physical health) will suffer. Taking breaks, creating boundaries between work and home, and making sure you laugh, exercise, and take deep breaths, will all pay off in the long run.   
Learn more about Hello Maker.
Picture: Steven Martin
Chez Leon Breads - Leon Forest
Before making his way to Canada in 2009, Leon Forest's career as a baker led him to countries throughout Europe, Asia and the Middle East.  For more than 33 years he worked with an international variety of ingredients and techniques, but he kept coming back to the recipes from his grandmother, who he says initially sparked his passion for baking.    
He is using his Nana's recipes daily now, after opening his own artisan bakeshop, Chez Leon Breads, in October 2022. Situated in a small plaza at the corner of Kilally Road and Highbury Avenue, the shop offers fresh daily made-from-scratch and custom-order artisan breads, scones, croissants, cakes, cupcakes, and other desserts. "My grandmother was half French and half Greek, so when I bake there is a lot of Mediterranean and European influences," says Leon.      
Over the years Leon found his skills were in high demand. As well as baking, he delivered seminars and teaching workshops to chefs in four- and five-star hotels in Dubai, Qatar, Thailand and India.  But the fast-paced lifestyle took its toll on Leon and his family. "We were looking for something less stressful, and while visiting friends, we fell in love with Canada," he recalls. Since his credentials were not recognized here, Leon enrolled in Fanshawe's culinary school for the Baking & Pastry Arts Management program.   
When the pandemic arrived, stuck at home, "I started baking like crazy," Leon recalls. He gave away a lot of what he baked to friends and neighbours, and was excited and thrilled when they started asking if they could place orders. "I started to consider doing this as a business and did a feasibility study. My research led me to the Small Business Centre."   
At SBC, Leon connected with one of the business advisors, who became a valuable resource person throughout the start-up phase, and still is up to this day.  "Phil has been fantastic! He's our go-to if anything comes up," says Leon.  "He spoke to the City's zoning office on our behalf, connected us with trades people when we were ready to renovate, and is a good person to bounce things off of."   
Leon's wife, Mona, who handles all of the administrative duties for the business, is from France, so it's not surprising that their European-style bake shop bears a French name. Chez Leon conjures up images of a cozy café and patisserie.  Leon and Mona are hoping that vision will become a reality in 2024, and have plans to take over space in an abutting unit that is currently vacant, to add a seating area to their shop.   
Chez Leon is a destination for customers from its immediate area, as well as regulars who come from communities around the London region, from Lucan to Lambeth, Byron to Woodstock. "We are a member of community groups in Kilally Valley, Summerside and Huron Heights, and we want to have a space for our neighbours from those and other communities to meet, sit and enjoy a coffee or tea and some fresh baked goods," says Mona.   
Starting the business has had its share of challenges, and the process has not been stress-free by any means. They work long hours and have all of their savings invested in Chez Leon. Each says it's one of the most demanding jobs they've had, but they have happily put down roots here and found a great place to raise their family.     
Learn more about Chez Leon Breads.
Jülide's Specialty Ice Cream - Jülide Cakiroglu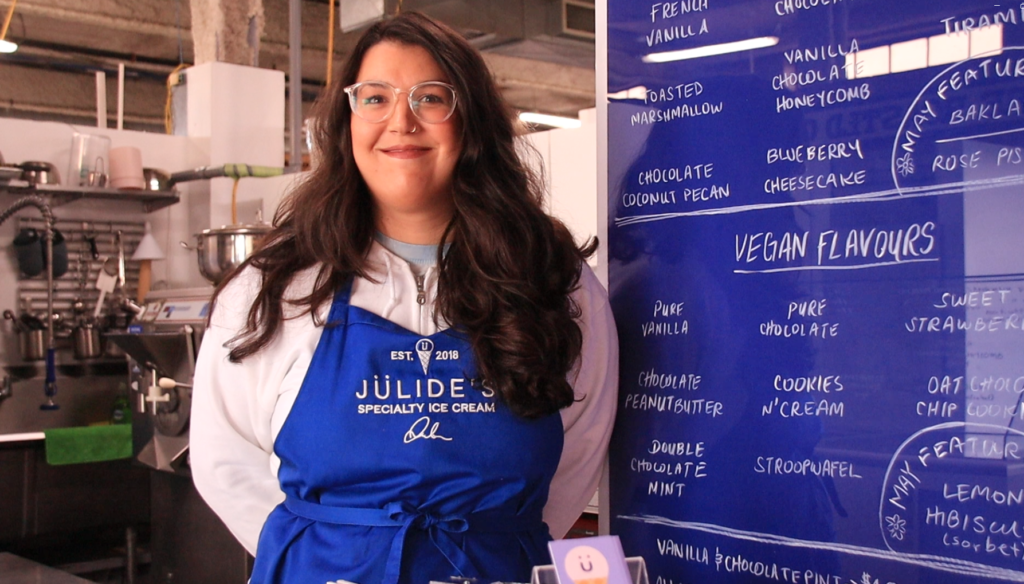 Jülide Cakiroglu has a flair for creativity, so it's not surprising that her small-batch, made-from-scratch premium ice cream features unique flavours and that she is constantly experimenting with new ways to incorporate local ingredients into her products. All of the ice cream is gluten-free, and half is vegan — a purposeful choice based on Jülide's motto: ice cream for everyone!      
What doesn't come as naturally to Jülide is making decisions from an objective business viewpoint. Thankfully she has some heavy hitters in her corner: a brother who is both an engineer and an Ivey grad and advisors at the Small Business Centre who have provided individual coaching and connected her to resources to help her business grow.     
Jülide's Specialty Ice Cream started as a hobby and creative outlet in Jülide's kitchen. Then a friend suggested selling her homemade ice cream at pop-up events, and after two successful years, Jülide decided to jump from her full-time job into full-time entrepreneurship, leading to a permanent business base at Western Fair Farmers Market.  "I applied for space in January 2020 and was approved in March," Jülide recalls.      
Then the pandemic hit, everything shut down, and her ice cream shop was put on ice, so to speak. "I used the downtime to prepare, to purchase equipment, and to learn to scale up from the pop-ups," she says. She attended a few seminars at the Small Business Centre, which she found helpful, and in 2022 was accepted to be part of the Foodpreneur Advantage Scale-Up Program. That program, says Jülide, was a life-changer.     
"I had always put ice cream and creativity first. The Foodpreneur Program forced me to put business first," she says.  The weekly seminars with professionals in the food industry gave her insights into new ways to diversify revenue streams and led her to rebrand her business.     
Jülide has started to explore opportunities to wholesale to grocery and specialty stores, but that may lead to higher volume production requirements and has forced her to look at the potential bottlenecks in production, packaging and distribution. With the $5,000 grant she received through the Foodpreneur Program, she invested in equipment that enables her to produce larger volume ice cream batches, and a label printer gives her the ability to create custom labels, and that Jülide feels gives her products a more professional look.    
Jülide is at a pivotal point with her business now. Does she need to find a larger production facility? To invest in packaging equipment instead of hand-packing all of her products? To hire part-time staff, since right now she is a solo operator with part-time voluntary help from her mom and boyfriend?     
Tough decisions. Jülide sighs, then laughs. "This business is the hardest thing I've ever done," she says. "But it's also the most rewarding."    
Learn more about Jülide's Specialty Ice Cream
Baked Bites House - Gursharan Singh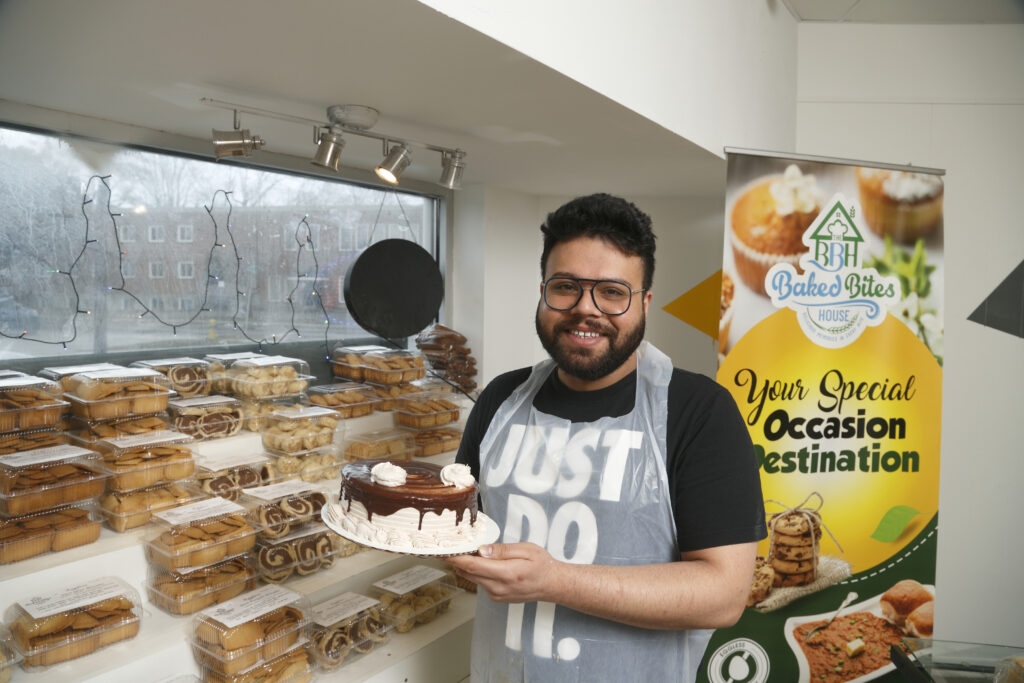 Operating the first authentic Indian bakery in London has been a rewarding experience for Gursharan Singh, who looks back at his first year in business with pride and looks forward to the future with optimism.  
Growing up in India, Gursharan was introduced to entrepreneurship at a young age. His grandfather and father were small business owners, and when Gursharan moved to London in 2022 he also decided to open a small business, although one that is very different. While BBH in India manufactures agricultural equipment, BBH (Baked Bites House) here in Canada is an Indian bakery and food business that offers vegan, egg-free, gluten-free pastries and desserts as well as burgers, sandwiches, shakes and other healthy "fast foods" that are available for in-store purchase, pick-up or delivery from Gursharan's shop on Hamilton Road.  
Baked Bites House has its roots in home baking that Gursharan shared with friends after moving to Canada to attend Hanson College in Brampton, where he studied business. After graduation, he lived and worked in Winnipeg before moving back to Ontario, and eventually to London where he opened his bakery in June 2022.  "I realized that there were no authentic Indian bakeries west of Brampton," he says of his decision to establish BBH here, choosing a name that would reflect his family business roots.  
Gursharan set up the 1,000-square-foot space with a small storefront and a large commercial kitchen in the back. After connecting with the Small Business Centre, he tapped into funding to add a refrigerated display case in the shop where he showcases his mousse and other cold products, and a freezer in the kitchen which will enable him to produce and store a larger volume of goods as he grows the wholesales side of his business.  
"Baking in a commercial kitchen is very different from baking at home," says Gursharan. He has one full-time staff, but otherwise, he does it all, and his long hours of work have been rewarded with steady business growth. BBH uses a variety of delivery services and has in-store visitors who appreciate that Gursharan is using authentic Indian recipes to create his baked goods.  
This year Gursharan is focusing on expanding the wholesale side of the business, targeting grocery store and restaurant clients. He has his sights set on opening a second storefront location next year but says that baking production will remain at the Hamilton Road kitchen.    
And beyond next year? Gursharan envisions growing BBH far beyond London, possibly through franchising, he says. 
 Learn more about Baked Bites House  
The Tea Lounge - Michelle Pierce Hamilton
With her background as a project management professional, The Tea Lounge owner Michelle Pierce Hamilton is used to handling a lot of moving parts. It's not surprising that she brings that skill to her own business, continually analyzing parts of her operations and seeking ways to improve and strengthen them. "There is never a shortage of ideas, only a shortage of abilities to implement them," she says.  
Even before she opened The Tea Lounge Pierce Hamilton was exploring resources, building connections and looking at opportunities to collaborate with community partners, including the Small Business Centre.  
Back then, she had a demanding corporate job and admits she drank too many cups of coffee, wasn't conscious about healthy eating, and got too few hours of sleep. After losing her father and a close friend, she recognized the need to take an honest look at her own lifestyle and to make changes to how she was living and working.  
Her research led her to tea. "It's more than a beverage," Pierce Hamilton says. "Tea drinking is steeped in culture and tradition and is tied to social customs and relationships in all parts of the world."  
She became a Tea Sommelier, and when she had difficulty finding good quality, ethically produced tea for her consumption, she searched out her suppliers. Then she opened an online store, be Teas, which is still in operation. The move to a bricks-and-mortar building for The Tea Lounge came about unexpectedly in 2012 when a friend urged her to look at the property for sale on Piccadilly Street.  
Located just steps from Richmond Row, The Tea Lounge is more than an old-world tea house where people can relax and visit with friends, read a book, or enjoy an experience. Carefully curated events and programs are offered weekly, from mystic teas with a local psychic, to yoga and meditation evenings, to live music and performance events.  
While the old home provides a charming setting for The Tea Lounge, it also presents its own unique challenges. "This is a 130-year-old house, with a 130-year-old kitchen," says Pierce Hamilton. In 2022, she updated the kitchen's electrical capability and purchased a commercial freezer to expand capacity and food preparation capabilities.   
With the kitchen upgrades complete, Pierce Hamilton was able to expand the menu. She collaborated with a neighbouring business, Haven's Creamery, to create Matcha Green Tea Ice Cream and a new pairing experience with "a sip of tea and a taste of ice cream."  A variety of partnering local chefs prepare food that customers can enjoy in the tearoom or pick up to enjoy at home.  
Pierce Hamilton feels it is important to diversify risk with multiple streams of income. As part of her healing journey, she became a Registered Holistic Nutritionist, Reiki and IET practitioner and teacher, and she offers healing arts services at the Piccadilly Street location.   
On the retail merchandising side, The Tea Lounge sells an array of tea ware and gifts, including locally handcrafted jewelry, art, crystals and more. And now, she is also able to rent the commercial plant-based kitchen in off-hours, providing workspace to local food entrepreneurs and helping to offset The Tea Lounge's operating costs.  "A total win-win!" she says.    
Nurturing those community connections, finding ways to take her business in new directions, and exploring new collaborations while offering a mix of traditional tea along with new experiences — Pierce Hamilton is still handling a lot of moving parts. She's still project managing, she says, but these days in a much healthier way.    
Learn more about The Tea Lounge. 
Talbot Yard Works - Brendan Talbot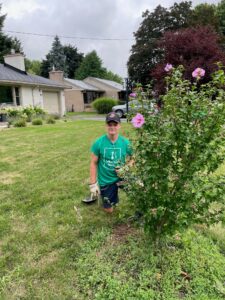 Tell us about yourself and the business you launched at the Summer Company Program in 2022.
I am 17 years old and in grade 12 at St. Andre Bessette. I play on several school sports teams, including football, basketball and soccer. I also play competitive soccer for the Whitecaps. I have two older siblings and a twin brother. I hope to study History or Kinesiology at university in the next year or two.
I started the business Talbot Yard Works. I do local gardening, landscaping, and clean-up jobs in my Oakridge neighbourhood. Spring clean-up, distributing dirt and rocks, digging up weeds, heavy lifting jobs, moving trees and even some laying stone paths and patios. I hired my twin brother to help me with most jobs, and I liked working with him.
How has the Small Business Centre helped your business?   
The Small Business Centre helped a lot. I was able to use the grant money to purchase yard clean–up equipment like a wheelbarrow, rakes & shovels, weeder and company t-shirts. I learned about budgeting and setting up a schedule and priorities. I also learned how hard it is to make money, and that being an entrepreneur isn't always the easiest because you have to rely on yourself to get things done.   
What led you to start this business? Was there something that drew you into being an entrepreneur?   
I wanted to work somewhere but was too young, so I offered to help my older neighbours with their yard work & responded to help ads on our local Facebook page. There seems to be a lot of need in my area for garden help. People are either too busy or can't do the work themselves. I liked that I could set the schedule of when I work because I am very busy with my sports. I could work around my own timetable needs. I like working outside and working with my hands. It's good to see the results of a job. 
Tell us about your experience within the Summer Company Program.   
Interesting to hear what businesses students were starting up. I appreciated the support from the group meetings. Sometimes it is hard to set aside time to go to the meetings because I had a very busy summer with the demand of my business. 
What were some of the challenges you faced getting started, and how did you overcome them?  
It was hard to get my name out there to start with, but once I got some good recommendations from people on our local Facebook page, I didn't even need to advertise much. It was hardest to organize and keep track of the jobs coming in. Another challenge was figuring out how to do the quotes and price my jobs so that I made sure I was being reasonable and getting paid enough to make the work worthwhile. Sometimes the jobs took longer than I thought they would, and I barely covered my costs.  I learned as I went along. 
 What's the best business advice you've ever received and why?  
Doing the little things goes a long way. In the type of business I have been doing, it seems that doing the little things sets me apart from other big landscape businesses. The customers seem to appreciate the personal touch. 
What advice would you give to an aspiring entrepreneur today?  
Make sure there is a demand for what you plan to offer and don't be afraid to do hard work and put the time in. 
Are you still running the business, or do you plan to pursue this in the future?   
Yes, I am planning on running this again in the summer. I even hope to hire a couple of extra guys because I expect this summer to be even busier than last summer because I'm not going to wait for word-of-mouth recommendations but start advertising in the spring. I now have my full driver's license, which will help me get around to the different job locations in my neighbourhood. I hope that this business will continue for me even when I'm at university.   
Learn more about Talbot Yard Works  
The Fix Inc - Angel Tsiga
When Angel Tsiga moved to London in 2018, she found that there were not a lot of hair salons that catered specifically to people of colour. "I wanted to go to someone who specialized in working with my kind of hair, and there were not a lot of options," she recalls. "I thought this could be a business opportunity!"   
She jumped in headfirst, so to speak, opening The Fix Inc in December 2019.  Since then, Angel has survived the COVID shutdown, developed her own line of hair care products, and tapped into the London Small Business Centre assistance.   
"My business advisor has been an amazing support," says Angel, who appreciates the help beyond the financial assistance her business received. "She did a lot of market research and provided insights that have helped with target marketing."  
After looking at different options with her advisor, Angel used some of the funding for signage and branding, product research and development, and setting up an online ordering and sales system for the new line of The Fix Inc hair care products.    
She had sourced ingredients like Jamaican Black castor oil and sea salt spray to use in the salon and has begun to play around with different recipes. That led to the development of The Fix Inc shampoo and conditioner, hair and beard oils, wax sticks, and a heat protectant spray that are now sold to the public.  
Angel's background is in business and finance, first in Zimbabwe and then in the U.S. She switched gears when she moved to Canada, completing a program in mental health and addictions at Ryerson and working at a harm reduction site in Toronto before moving to London. Once she decided to pursue entrepreneurship, Angel had to return to school again to become a qualified hair stylist. 
After finding affordable space on the Hamilton Roads business corridor, she installed four workstations and reached out to the Black community to find three more stylists. One worked in a salon in Jamaica for 27 years; another worked with hair in Nigeria; the third specializes in braiding and creates most of the wigs that The Fix Inc sells.  
"We specialize in cutting, colouring, barbering, braiding, cornrows, twisting, dreadlocks, wigs and weave applications and upkeep," says Angel. 
"I knew I wanted to work with people, and the salon is a great way to do that. You listen to people, give them a place to offload some of their stress, and when they leave, they look good, and they feel good. That's why our tagline is 'Bringing out the beauty within'." 
Learn more about The Fix Inc.
Future Stars - Nick Taylor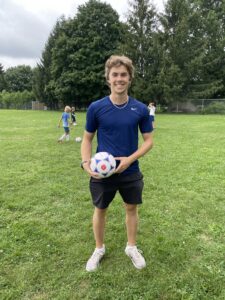 Tell us about yourself and the business you launched at the Summer Company Program in 2022.
My name is Nick Taylor, and I am 21 years. I live in Kilworth and am in my second year of Kinesiology at Western.     
Last Summer, my partner and I launched our very own soccer camp, which we ran out of my public school. We offered weekly camps and private lessons, allowing parents a local and trustworthy option to enlist their child. We taught our campers the basics of dribbling and shooting, making them better teammates and helping one another out.  
How has the Small Business Centre helped your business?   
The Small Business Center helped introduce the very structural basics of running your own business. The SBC helped me understand that I wouldn't just be running a camp, but I would be in charge of my own business.    
What led you to start this business? Was there something that drew (or pushed) you into being an entrepreneur?   
Since my earliest teenage years, I've been a working man. I've worked in a kitchen, a grocery store, and hockey arenas, but I was never satisfied no matter where I worked. Starting my own business allowed me to be my own boss, make my own money, and decide exactly what I wanted to do.  
Tell us about your experience within the Summer Company Program.   
My experience with the Summer Company Program was very influential. The classes they provided helped everyone learn so much from a business perspective. Evidently, everyone came out of the Summer as much more confident entrepreneurs.   
What were some of the challenges you faced getting started, and how did you overcome them?  
The most troubling thing I encountered initially was understanding how to promote the camp and ensure a successful summer. Through the guidance of the Summer Company Program, I confidently promoted the camp, gathering the community's interest and providing a busy and successful summer.  
 What's the best business advice you've ever received and why?  
The best business advice I've ever received was to be patient and that not everything would fall into my lap. Understanding the power of 'word of mouth' and how it can be your best marketing partner allows you to be patient and understand that if I did great work, I would gain the respect of my customers, and they would help spread the word.  
What advice would you give to an aspiring entrepreneur today?  
My advice to an aspiring entrepreneur would be to enjoy the experience. Running your own business can seem stressful due to the responsibilities that come along with it, but it is a learning experience. Understanding you're human and will make mistakes is vital to enjoy and seeing you and your business' growth.  
Are you still running the business, or do you plan to pursue this in the future?   
My partner and I are going to run the camp again this Summer. All of the positive feedback and a successful first year made running the camp seem less like a job and more like a fun activity.   
Learn more about Future Stars.
Bella's Acacia Catering – Bella Kim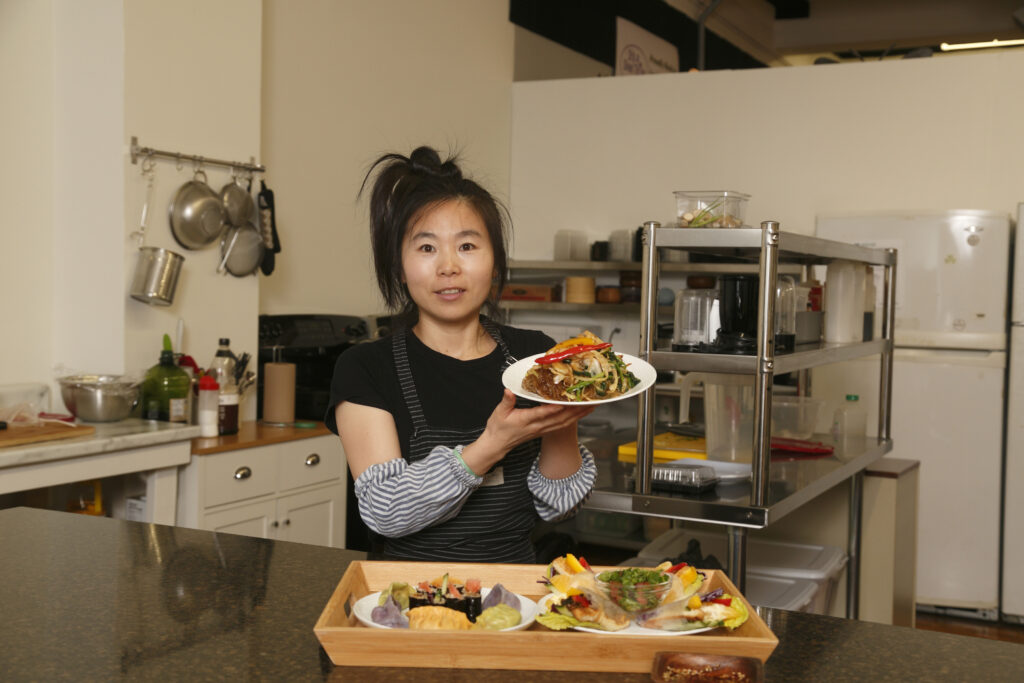 When Bella Kim followed her heart to London in 2015, despite being welcomed into her future husband's large extended family, she says there were times she felt terribly homesick. "I missed my mom's cooking, so I went searching all of the local Asian restaurants, looking for authentic Korean dishes that tasted like home."
Nothing quite hit the mark, so Kim decided to cook her favourite Korean meals herself.  Creating authentic Korean dishes eventually led her to launch Bella's Acacia Catering, a line of hand-crafted kimchi and other packaged products that are retailed locally, and most recently a café that bears her name.
"We specialize in vegan-friendly, nut-free, allergy-free, dairy-free, and gluten-free food, and offer unique flavours," says Kim. She has expanded twice, but still does all of the shopping herself, going out two or three times a week to hand-pick the premium, fresh ingredients that she sources locally.
When Kim first started cooking her family recipes here in London, one of the biggest challenges was finding the right ingredients. "I tried all types of cabbage — even cabbage grown in Canada doesn't taste the same," Kim says. But she persisted, and when she started sharing her home cooking with friends and family they soon started asking her to prepare food for them.
Demand grew, and Kim decided she should offer catering as a business. She connected with an advisor at the Small Business Centre when she launched Bella's Acacia Catering, and has stayed connected with the SBC throughout her entrepreneurial journey. 
Kim opened Bella's Acacia Catering working out of a rented commercial kitchen in Old East Village in 2018, while she was still a full-time student in the Business-Accounting program at Fanshawe College. Kim recalls nights when she worked in the kitchen through the wee hours of the morning and says 15-hour days were often the norm.
Although her initial goal was to be a CPA, in 2020 Kim decided to step away from school and channel her energy into building her catering business. She moved her operation to the back area of the London Food Incubator at 630 Dundas Street as soon as space became available — in the fall of 2020, right in the middle of the pandemic.
"The business was struggling, so I decided to take my packaged food to farmers' markets and pop-up events — basically anywhere that I could connect with the public. Some people didn't even know what kimchi is, so I had to educate them," she says.
Her persistence was rewarded with a growing loyal customer base — so much so that in November 2022 she moved to a larger space, closer to the building's front entrance, with room to set up a small eat-in area. Through her business advisor at SBC, she was able to access funding, which helped with the cost of renovations, the purchase of kitchen equipment, dining tables and chairs, and some marketing expenses. 
Although Kim continues to do all of the shopping and cooking for Bella's, she now has three to four part-time workers who help with food prep, cleaning and sterilizing, and packaging. The business is split fairly equally between food orders for catering, pick-up and dine-in, and packaged products that can be purchased at Bella's, Remark or Momo's at Western Fair Market. 
Having dine-in seating means Kim can meet more of her customers in person, but she would also like to expand her wholesale business by distributing packaged goods through local grocery and more specialty stores.  She's confident that demand for her food will continue to increase, she got the persistence she needs to grow the business…and she's ready to work more of those 15-hour days.
Learn more about Bella's Acacia Catering.
Jungle Services – Giuliano Caranci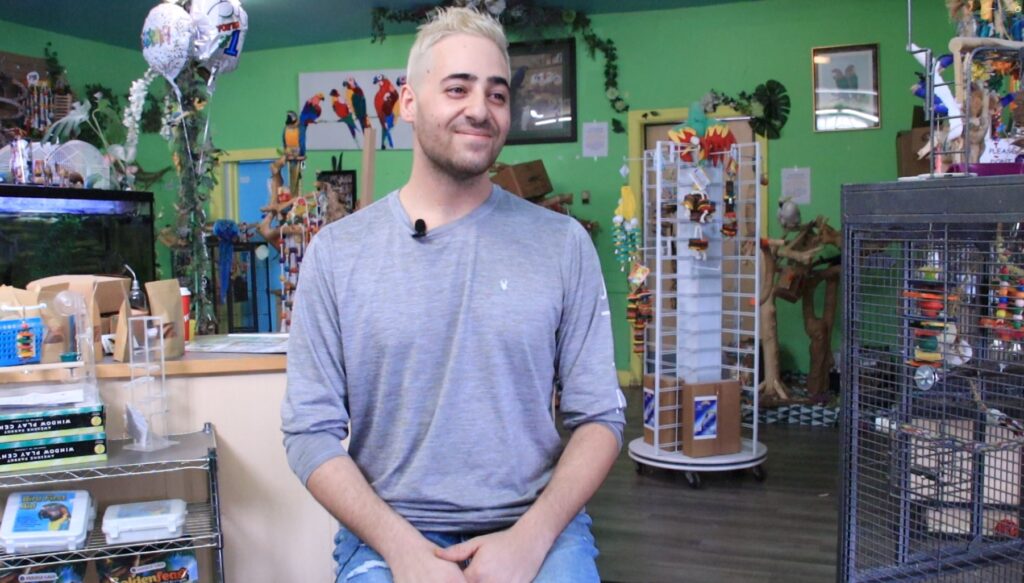 Even as a young boy, Giuliano Caranci was fascinated by animals and knew that when he grew up he wanted to own a pet shop. When he was 10 years old he adopted a budgie, then a second one, and soon birds became his passion.
His childhood dream became a reality when he opened Jungle Services, initially online in 2012 and then as a bricks-and-mortar store in 2018. It is London's only pet shop that specializes in parrots and exotic birds.
From small budgies to large macaws and parrots, Giuliano helps people find the best bird for their family.  He also sells food and supplies, provides grooming services, and offers education and resources to help customers keep their feathered friends healthy and happy. Jungle Services carries an extensive selection of pellets, as well as dehydrated fruits and vegetables and baked treats that Giuliano makes himself. His prices are comparable to larger chain pet stores, but the variety is much larger.
Giuliano breeds most of the birds that he sells, hand feeding them and caring for them until they are old enough to move to a new home. He also runs a bird rescue service to rehabilitate and re-home birds when their owners' circumstances change and they are no longer able to care for them.
"Birds can be a great family pet, and parrots can be a great companion for someone living alone, but they need to be properly cared for," he says. That includes providing a high-quality diet, social time since they thrive as part of a 'flock', toys and activities that provide mental stimulation, and regular wing and nail maintenance.
"Education is a huge part of what I do, and a lot of my time is spent doing research and answering questions," Giuliano says. It's important, but it can be extremely time consuming. "One day the Ambassador from My Main Street walked in, and when she saw what we're doing here she started talking to me about and how the program could support my business." The My Main Street Local Business Accelerator Program was delivered in London by the Small Business Centre in partnership with other local organizations, supported by the Economic Developers Council of Ontario (EDCO) and the City of London.
Giuliano was thrilled to receive funding to purchase high quality camera and video equipment. He records information about different topics that bird owners will find helpful, and regularly posts it online. He still provides specialized information to some customers, mainly through fee-for-service individualized consultations.
Giuliano also records activities and events that build community among local bird lovers, from following the progress of newly hatched babies to a 'gender reveal' party for Oscar, a 26-year-old cockatoo (many species of birds have no outer indication of their gender at birth, and for Oscar a DNA blood test was required) and a birthday party for one of the well-loved rescue birds.
"Jungle Services isn't just a store, it's my full-time life," says Giuliano. "Some of these birds will live 30 or more years. It's important to ensure that people know what to expect, to find a bird that is a good fit for them, and to have the knowledge and resources to support them after they take their bird home."
Learn more about Jungle Service.
Jagoda Hall – Salon Cyan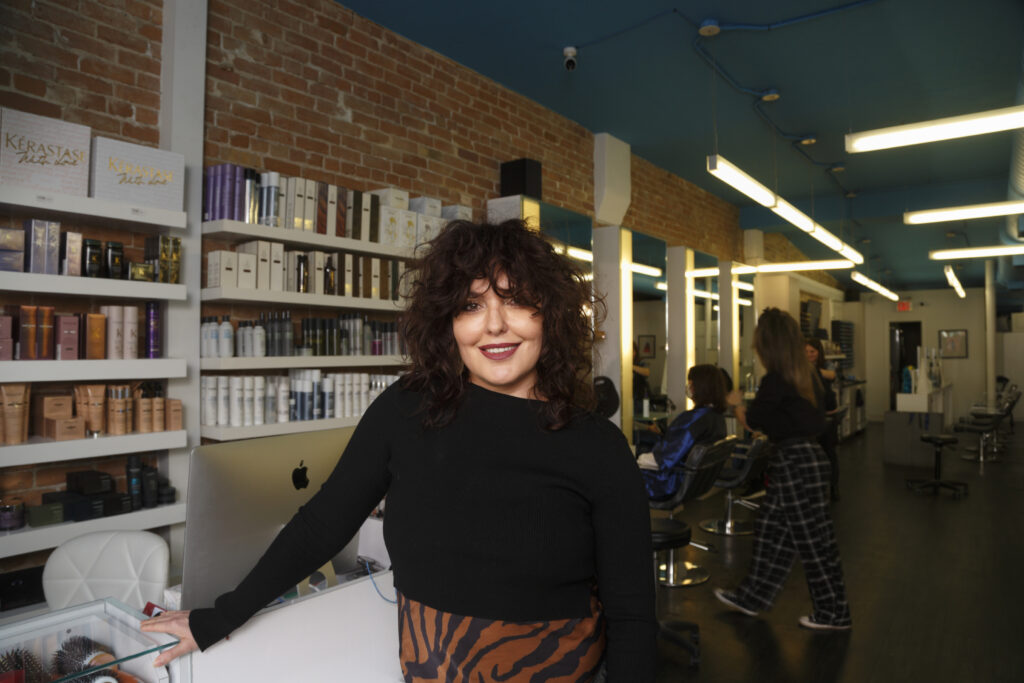 If you have to wear a wig, you want it to look natural. It makes sense to have it cut, shaped and styled to suit you, says Jagoda Hall, the owner of Salon Cyan. The upscale downtown salon quietly introduced wig sales and services a few years ago for clients who lost hair during cancer treatments. Some had brought wigs that they had purchased elsewhere and asked the Salon Cyan stylists to cut and style them. Some were looking for instruction on how to shampoo and care for their wigs, or asked if Hall could do that for them.
As more and more people needing wigs found their way to the salon through word-of-mouth and referrals from health care practitioners, Hall and her salon manager, Kasia Fevens, recognized that the need was more than simply covering their bare heads.
"When people suffer from alopecia or lose their hair during cancer treatments, it affects them emotionally as well as physically," Fevens says. "Having a team that can custom fit and style a wig, in their own natural hair colour, and to suit their face —what a gift that is! People feel so much more confident and more comfortable about their appearance."
With training Fevens became a wig specialist, and a wig/consultation room was set up on the salon's second floor. In the bright and cozy space clients have access to a full display of wig choices, both real and synthetic. And they have privacy when they bare their heads — and often their emotions. Part of the cost of the display wigs and shelving came from My Main Street Local Business Accelerator Program, delivered in London by the Small Business Centre in partnership with other local organizations, supported by the Economic Developers Council of Ontario (EDCO) and the City of London.
Having her own upscale salon was a far-off goal when Hall arrived in Canada from Poland in 1996. First, she had to learn English, then get formal training to be a stylist, and then get experience working in other shops before she could hang out her own shingle. "I knew I wanted to have my own salon, and I knew I wanted to be downtown," she says.
When the building at 115 Dundas Street, just east of Talbot, came up for sale Hall fell in love with the yellow brick interior walls and the feel of the space. "This building is older than Canada," she says. "I knew it would be a challenge to be here, but I also could see the potential, and I wanted to be part of the change in this part of the downtown."
Salon Cyan opened with Hall, her assistant and a receptionist working on the main floor. Now the salon fills both the first and second levels of the building, there are 11 stylists and several assistants, and almost all of the women who work here have been trained by Hall.
Over the past 25 years Hall has won national awards for colour, cutting and makeovers, and coached and mentored several Salon Cyan stylists who have entered and won national and international competitions. The award-winning styles are captured in posters that hang on the salon walls.
People may wonder why Hall named her salon Cyan. "In Polish, Jagoda means blueberry, and cyan is a beautiful shade of blue. My husband wanted to name our daughter Cyan, but I preferred a Polish name," she explains.  "The salon is like a second baby, so there was no question what the name would be!"   
Learn more about Salon Cyan.